After a long day, and a few days with not all that much to eat, we were looking forward to a good meal. I'm not an especially fussy eater, although spicy food causes me problems, so I was looking forward to trying some real Moroccan cuisine.
Dinner was included in the price of our room, and started with a thick soup with beans in the bottom (no, not baked beans!), then a lamb tagine with seasonal fruit to finish – washed down with some Moroccan wine.
A tagine is a kind of casserole dish with a conical lid. The meat is put in the centre, with vegetables arranged around it before being cooked in an oven. Simple and delicious.
The local beers were pleasant enough, although in one hotel we had locally brewed Heiniken. And no, it doesn't taste any better than it does here.
The rooms were comfortable, each having a double bed and two singles. One concern about the trip was the law relating to sharing rooms where is illegal for an unmarried lady and gentleman to share a room, and with homosexuality being illegal, the scope for a potential misunderstand was definitely there – although, as with most of our concerns, they were unfounded and sharing rooms, even at one point being expected to share a (double) bed, was never a problem for our various hosts. We did ask for an extra bed though!
Wednesday was out first day together in Morocco, and the day we left the tarmac and headed for the pistes. Breakfast was bread, crepe, apricot jam, cheese, coffee, freshly squeezed orange juice and omelette – some things are much the same all over the world.
We stowed our things, and rode out of the gate…. Well, almost. Mark H's bike had blown a fuse the day before, leaving him with no brake lights and no dashboard lights or speedo (it's a digital one on the KTMs), but this wasn't the problem that stopped him this morning: this time his bike died completely. No lights, no starter, no clocks, nothing at all.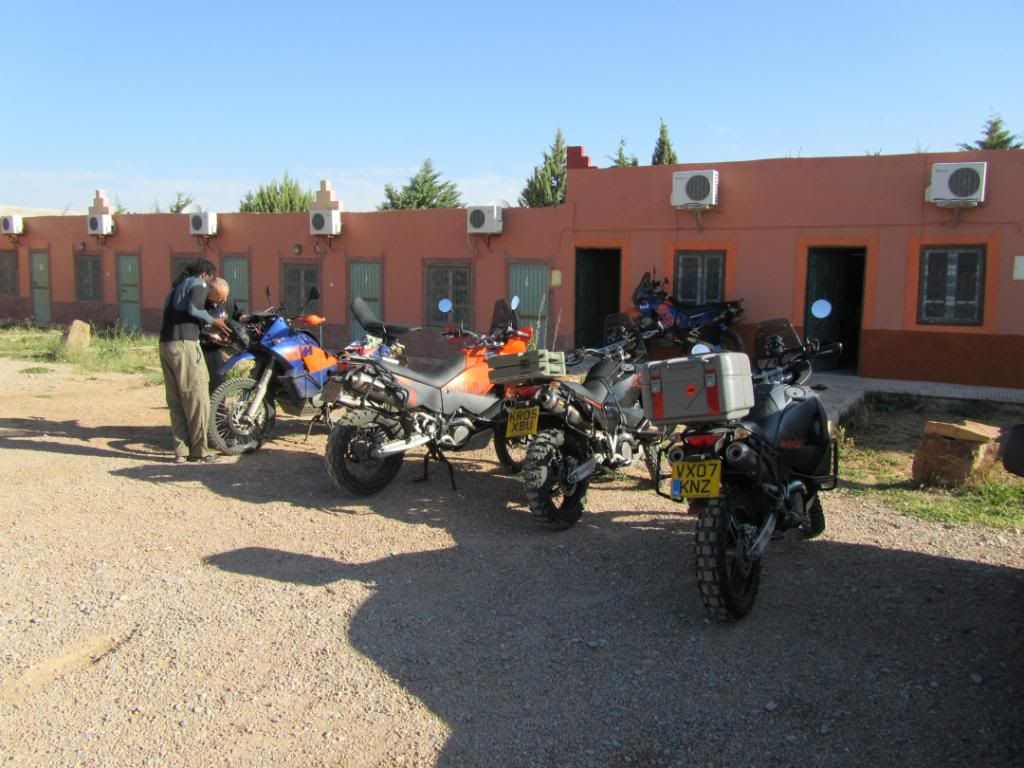 Now we knew that Mark's battery was getting weak, which is why it wouldn't start my bike back in Spain, but we were getting a horrible sense of déjà vu. Thinking it through logically, we started with the rest of the fuses in the fusebox between the two fuel tanks – all present and correct (bar the one that had blown the day before). So what next? Main fuse? Bingo! The 30a main fuse, buried in the sump-guard with the battery and starter relay, had blown. Strange. Then we spotted an unplugged plug through an opening in the side of the bodywork, reconnected it, changed the fuse, and the bike started.
The only way that plug could have been disconnected was by human intervention, because it had to be pulled up out of the socket. Very strange.
With the fuse changed we were back on the road and doing the last few kilometres in to Midelt. There we branched off on to the Cirque du Jaffar, with the intention of getting to Imilchil [Ima-shil] for lunch.
The going was pretty easy: a gravelly track with gentle bends, the odd stream and relaxed uphill gradient. When we stopped for a breather, Gareth said he'd go on ahead and take some video as we rode past and to give him five or ten minutes head start – so that's what we did.
Carrying on up the track we found Gareth gesturing frantically beside a small stream, so we thought he was asking us to go a bit quicker to make it look more spectacular – but that's not what he was meaning at all.
Stopping a little way further up the track for him to catch up, we soon found out that what he wanted us to do was to stop. He'd had a bit of a crash, where the front wheel had hit a rock as he was looking backwards for a good place to film. He'd gone over the bars, and given himself a nasty bruise on his thigh (we took his word for that!). Most seriously of all, he'd hit one of his metal panniers on a rock which had severely dented it, forcing the lid off and popping the bottom out of it too.
Before we could carry on, the pannier needed to be repaired otherwise we'd be collecting his kit as it dropped out the bottom. Of course getting the pannier off the bike was the first challenge because the dents in the back of it obstructed the locking hooks. Once it was off, we needed to bang it back in to something approximately pannier shape – and I came to the rescue with a mallet.
I got a fair amount of teasing for bringing a mallet, but it wasn't the only time on the trip that it was to come in handy.
Setting off again, and climbing a little more steeply now, the piste remained wide, gravelly and easy to ride – although on one left-hand bend Mark L managed to run wide in to some boulders. Normally this wouldn't be too much of a problem, except that Mark isn't all that tall and rides a 990S which has around an extra inch of suspension travel. He's also fitted a more comfortable seat that's about an inch higher than standard too. The net result is that he can't put his feet down.
I'd ridden past him, but stopped on the next flattish bit to make sure he was OK. By this time he was off the bike and trying to roll it back on to the path – which he didn't quite manage, and gently toppled over.
Climbing off my bike I walked back to help him. We were higher than we thought at this point, and even the short walk down the track was tiring. Between us we rolled the bike backwards out of the boulders and back on to the path. He set off again while I climbed back up to where I'd stopped and took a few moments to get my breath back and take a photo of the scene:
The track gradually narrowed, and took on a sideways slope from the rock face towards the drop. The surface also changed and became looser and much less grippy – even with knobbly tyres.
Coming to a boulder that had fallen down the hillside, I had to ride around it and with the extra weight of my luggage, the slope and the loose surface, the rear stepped out and it was my turn to have a lie-down:
The bike landed on the pannier, which popped off it's mounting without damage (other than a dent in the bottom corner of the plastic), and the rear wheel came to rest right on the edge of the drop:
I decided that trying to pick the bike up on my own probably wasn't the best idea given the loose surface and if the bike had gone over the edge then that would be the end of the bike – although it's worth noting that we never saw an abandoned wreck anywhere in the mountains, and we suspect they get picked clean and carted off by locals in much the same way as ants devour fallen food.
Being the last person in the ride at this point, all I could do was sit and wait until they realised I wasn't with them and it wasn't long before Mark H and Gareth arrived and between the three of us we got the bike up, pointing in the right direction and the pannier re-attached.
The track remained "technical" for another kilometre or so, before widening out, losing the camber and having an easier surface.
When I caught up with the other four bikes I found that I wasn't the only faller on that section. Jason had slipped in much the same way as I had, and in his eagerness not to go over the edge had rammed the rock face with his bike, smashing his Lexan headlight guard, breaking off an indicator and putting a selection of deep gouges in to the fairing.
We rapidly came to the conclusion that if the trail had many more sections like that one, we could be in trouble and we wouldn't reach our intended destination near the Dades Gorge. We subsequently discovered by comparing maps that what was shown as a piste on one map was shown as a donkey track on another... Mapping Morocco isn't easy and you cannot rely too heavily on the maps because the condition can change dramatically, and often actual route of the road changes because of landslides, floods, upgrades etc. A route taking two hours one year can be an eight hour epic the next.
The rest of the route was much easier to ride, and a mixture of wooded sections, rocky outcrops and the occasional hairpin bend kept us entertained. By about midday the track joined a more major track, which was wide, smooth and consisted of a layer of gravel over tarmac. Possibly the worst surface there is to ride on. The track curved around the hills, and we were able to pick up the pace a bit.
A new experience for the day was riding through the many small villages. Invariably you're the day's big event, and people will stop and stare. Kids will run out of their houses and generally do one of three things: Wave and 'Hi-5', demand sweets (bonbon monsieur) or money (Dirham monsieur – or if that doesn't work, "Euro monsieur"), or throw stones.
The biggest hazard was often the number of children all trying to hi-5 you as you rode past – on both sides. The left was fairly easy, but the right was a little more tricky, and care was needed because the very worst thing that could happen was you running over one of the kids. It didn't happen, but I dread to think what they'd do to us if it did. One lesson we all learned very quickly was that the kids put their all in to the hi-5, and it hurts!
As the afternoon progressed, the sky got darker and more threatening with the odd flash of lightening in the distance. Arriving in a village at the bottom of a valley, the road was blocked by an excavator that was rebuilding the road where it crossed the river, and we had to wait for it to stop to let us pass.
As we waited, crowds of children appeared demanding sweets, money etc. and before too long I felt (and heard) something hit my helmet – great, I thought, they're throwing stones… Except they weren't. Another couple of pings and something bounced off and landed inside the fairing: a marble-sized hailstone! Not something we expected, but better than stones.
Eventually we took our leave, and carried on through the pouring rain. None of us were really dressed for rain, and it even got cold enough for me to deploy the headed grips. We stopped on a causeway just outside the village to check the map and see where we could change our plans. While we were stopped, a young girl wandered over and asked very politely for a sweet and it made a pleasant change. She was rewarded with a boiled sweet and a Biro.
The whole issue of giving stuff to kids is somewhat contentious. These people have very little, and are desperately poor whereas we are rich and have everything – at least in their eyes. Is it wrong for them to want a bit of what we've got? Or does it just promote begging and dependency? Who knows…? I certainly don't.
From there it was a short ride to Imichil where we planned to refuel and stop for the night. The petrol station there is fairly new, and before it was built fuel had to be pumped from barrels. While the bikes were being filled (petrol stations aren't self-service) we were surrounded by yet more children all trying to get us to stay in their father's / brother's hotel or visit their shop etc. and it was very irritating.
My technique was to say a very clear "no thank you" and then ignore any repeated requests, but some of the group found the constant clamouring for attention to be very wearing – although I had to suppress a chuckle when someone, I can't remember who, started trying to reason with one of the kids. Needless to say it didn't make the slightest bit of difference!
Having eventually got rid of all the kids, we planned out next course of action. None of us wanted to go back through the village, so the remaining option was to carry on until we found a hotel – which is exactly what happened, just a few metres up the road.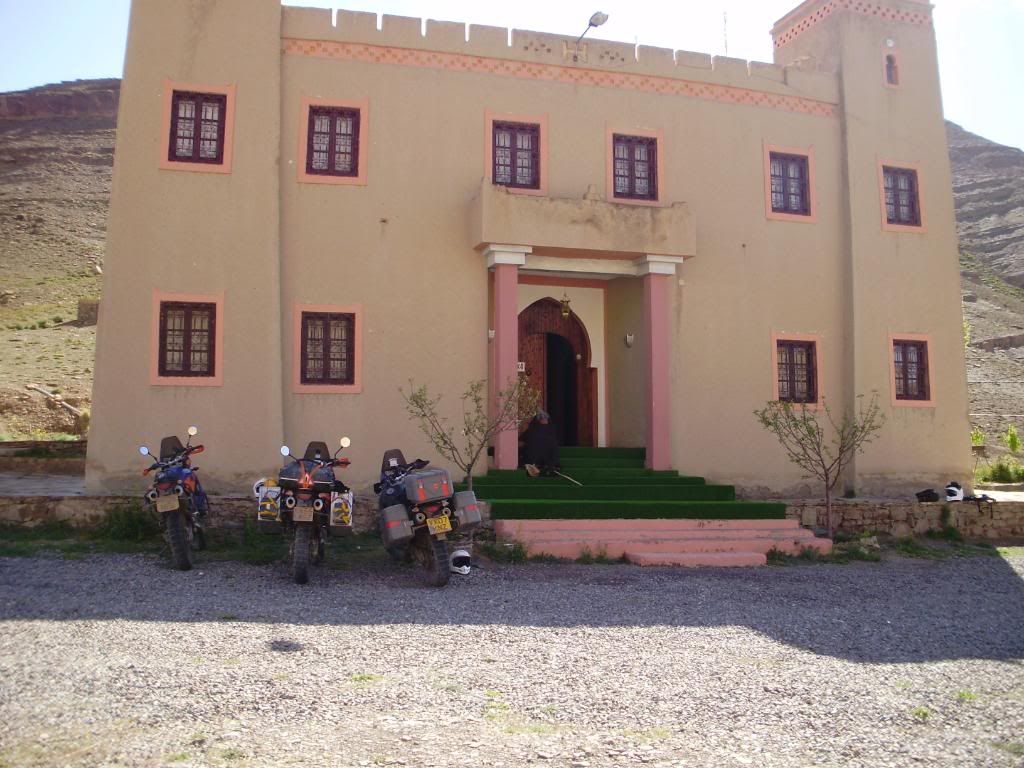 The hotel was built on a rise just beside the road, and as we rode up the driveway we were greeted by what seemed like (and probably was) the whole family from Grandpa through to granddaughter. Of course they had rooms; would we like to eat? Yes please – what? Lamb tagine? Lovely – thank you.
Next thing we knew, Grandpa was given some money and sent in to town for supplies, returning half an hour or so later in the cab of a truck. Tea was prepared for us, traditional Moroccan tea with mint and lots of sugar. I can't stand tea, but for good manners I had a glass (which wasn't too bad) and a couple of biscuits.
The hotel was fairly imposing affair inside, with a large atrium with rooms arranged around the edge, and rooms off the ground floor with sumptuous carpets, for meals and tea. Custom is to remove your shoes before going in to someone's house, but as we stopped to remove our boots we were hustled politely inside saying that it did not matter. But with light coloured carpets throughout, we did feel somewhat guilty with our dusty boots and luggage.
Our rooms were on the first floor, with a connecting door. There were three beds in one room, and a double in the other. Hmm… We asked for another bed and it wasn't a problem – the beds were layers of foam mattresses, a bit like caravan seat cushions, so it was a simple matter to re-arrange them in to two singles from one double. The pillows were very solid and heavy, and we had to check to see if they were sandbags or sacks of concrete; neither would have been a surprise but they weren't, just very solid pillows.
While we waited for dinner, we went and stood on the porch to watch the approaching storm. The whole sky was repeatedly split by shards of lightening and, when it came, the rain was torrential. We felt sorry for Grandpa who was going to sit on the porch all night to watch the bikes. When it came, the lamb tagine was delicious, with seasonal fruit to follow (a fresh orange). No alcohol here, just a chilled bottle of water.
The bathroom was enormous, not far off the size of my lounge, with a marble floor and beautifully tiled walls it had both a bath and a separate shower cubicle. There was also plenty of hot water, and we made the most of it before a sound night's sleep with not even the rain drumming on the windows keeping us awake.
Next time: American tourists and bars of chocolate.